Garage Door Openers
Back To Our Services
Functional garage door openers guarantee safe operation! When was the last time your opener was maintained? Whenever you are in need of opener maintenance, trust our team of experts. Whenever urgent opener problems are encountered, turn to "Garage Door Repair in Flushing" for services. With openers being the only electric part of the garage system, good inspections and annual routine service will ensure the safety of your family. What makes our company an easy plus smart solution for such needs is that professionals have full knowledge of all major opening systems, are up to date in regard to training, and guarantee same day emergency Liftmaster door opener repair. We are here to help you out when the chain comes off the gear, the motor makes noises or the reverse mechanism doesn't ensure safety. Our noteworthy professionals do guarantee safety and that's why their work will deliver satisfying and commendable results.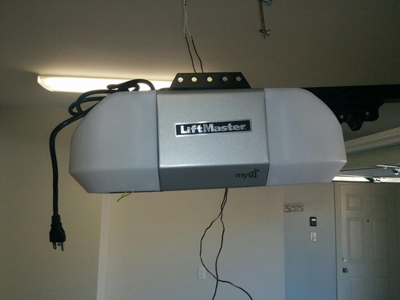 Full services for door operators
With garage door openers developing rapidly, you need experts who are knowledgeable of the latest technologies. Our team is comprised of dedicated technicians with excellent knowledge of all Marantec, Genie, Craftsman, Chamberlain, and Sears operators. They retain professional expertise in the most modern operating systems and their accessories allow us to service and repair Liftmaster garage door openers, efficiently. Committed to offering quick response opener services, speedy technicians will be at your home every time you need assistance. Is the door stuck at the opening position and won't come down? Do the opener lights flash and are unsure why? We provide same day opener troubleshooting and thanks to our advanced tools plus immense experience, the problem is fixed in a timely manner.
All homeowners can count on our professionals when they are faced with urgent opener problems. Whether related to the chain, sensors, trolley or motors, problems are checked and repaired as fast as possible. What's significant is that Garage Door Repair in Flushing can help you during urgent times and whenever routine services are necessary. Are you planning to replace the existing Genie opener? Let us help out! Friendly staff will answer questions and order a new operator for every client. With continuous updating of the freshest models and years in the garage door repair field, a professional opinion will mean a lot to you. Rest assured that we offer superior garage door opener replacement and installation, are able to replace all opener parts and fix loose components, and are devoted to serving your needs. Need more information about opener services? Contact our staff today!